LAN Agent Enterprise - employee tracking software | IT security + employee surveillance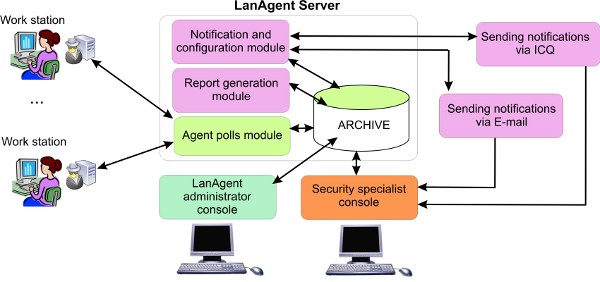 LAN Agent Enterprise is our all-in, full-featured system for employee time and attendance tracking and corporate IT security. Like its little brother LAN Agent Standard, Enterprise is made to protect corporate information, promote effective employee time management, and strengthen workplace discipline.

LAN Agent Enterprise will show a complete picture of the employee working day, (how much time each of them spent on computer games or on personal correspondence in Skype), and how much to work.
Such employee control will allow not only to increase labor discipline, but also to optimize employees' working hours.
LAN Agent Enterprise also allows you to take control of the main channels of information leakage, such as: removable storage media, corporate mail, social networks, instant messaging programs, Skype, printing documents on a printer. This will allow timely detection and prevention of leakage of important information.
Here is what you get when you choose LAN Agent Enterprise:
One-stop solution for protecting your confidential information.
Full picture of employee computer use during the workday, showing how much time has been actually spent on work.
Visual reports, which can be sent by email.
Notifications on employee violations of security policies (visits to forbidden URLs, copying of sensitive files to a USB drive, suspicious correspondence, etc.).
Package of legal documents for application deployment and introduction of a confidentiality policy at your company.
Lifetime license, plus setup/configuration support from our specialists (including via remote access).
Enterprise incorporates and exceeds all of the features of LAN Agent Standard. Enterprise is optimized for collecting data from a large number of computers and its server component can work in the background 24/7.
Your users don't need to log in to the server: all they need to do is to turn on their computer. This version also supports connecting to a virtually unlimited number of data viewing consoles; even better, rights for accessing information can be flexibly configured for each security specialist.
Enterprise has a built-in report scheduler and alert manager (for sending alerts about security violations via email). Alert settings are flexible as well.

Special features in Enterprise:
Use of several workplaces of Data protection officers (for viewing the collected data).
The feature of polling controlled computers located outside the local network via the Internet (for example, business laptops).
Suspicious user actions alert: copying a large number of files to a USB storage / cloud or file hosting, activity after hours, printing a large number of documents to a printer, ...
Unusual behavior analyzer, detection of atypical user activity (heuristic analysis of violations).
Advanced search module (which allows you to use full-text search, regular expressions (phones, credit cards, etc)).
Monitoring mail received and sent using MS Exchange Server.
Advanced diagnostic capabilities, data analysis.
background working of the LanAgent server (it is design as windows service and windows login is not required for its operation). Data on the client computer is accumulated constantly and independently of the server, but in order to view it, the server must get data to the database. In the Enterprise version, this is done continuously in the background. In the Standard version - at the request of the user.
Access to data viewing can be managed to each security specialist.
Sending security violation alerts via e-mail.
Built-in report scheduler with the ability to send reports to E-Mail
Employee tracking software description:
The program consists of 4 parts – agent (client), server, security specialist application and system administrator application.

Clients:
Installed directly on those computers that should be monitored. Monitors all user activities.

Server:
It includes the agent polling module that retrieves information via the network in a centralized way (polls agents); the alert center and configuration module; the report generation module and the database that is used as an archive. The alert center and configuration module immediately sends alerts (via e-mail) to the security officer in case of security policy violations. Correspondingly, the report generation module is used to generate scheduled reports and, if necessary, send them to the e-mail address specified in the settings. The special LAN Agent ServiceManager program is used to control the server modules.
Data protection officer application:
It allows to view data collected from clients. It can be also used for data protection officer notifications about suspicious user actions and unusual user behavior. This application investigates security incidents.
LAN Agent administrator application:

A software package that allows you to configure the system: configure clients (what types of events (logs) and on which computers to track), configure security rules for specific groups of events, configure workplaces for security officers (distribution of rights to view collected data, subscribe to alerts, etc).
The architecture of the software allows agents to work autonomously independently of the rest of the system. It means that if the computer with the server on it is switched off or there is no connection to it via the local area network, the agent will save the information to encrypted log files on its computer. And it will store this information till it receives a request to retrieve them from the server. Log files will be cleared on the computer with the agent after they are sent.

Logs can be stored on a computer as long as it is needed. Theoretically, their size is limited only by the size of free disk space. Nevertheless, it is possible to limit their size and then the log files on the user computer will be cleared once they exceed this limit. Note that the more logs users have the longer it will take for the agent polling module to receive them.

Information exchange is carried out via the TCP/IP protocol. All you have to know is only the IP address of the computer with the agent installed on it or its network name for the server part to able to connect to it.
Such a scheme of work is also possible when the client itself connects to the server for data transfer. Then data collection can occur via the Internet, without connecting to a local network.
Agents are launched at each Windows startup. By default, monitoring is also started at each Windows startup. If you want, you can disable starting monitoring automatically. To do it, select the computer you need in the list in the administrator part, right-click it and select the "User settings" item in the popup menu. After that you will see the "Start monitoring at Windows startup" checkbox. You can clear this checkbox and the agent will be launched at Windows startup, but it will not monitor anything, but just wait for commands from the server part.

With all this, LAN Agent Enterprise is employee monitoring software that accomplishes two tasks in a powerful way: ensuring IT security at your company and monitoring employee work time use.
Employee tracking software
Get for free 15-days LAN Agent Enterprise trial